Healthscope Hospitals is one of Australia's largest private hospital operators, with 43 private hospitals concentrated in large metropolitan centres across all states and territories in Australia. We offer a wide range of acute medical, maternity, rehabilitation and mental health.

In 2017 alone our 43 hospitals provided care for over 985,000 patients, performed over 150,000 inpatient surgical procedures and delivered over 12,500 babies.
At Healthscope, we are committed to providing patients with the best possible experience during their hospital stay. We have a strong belief in the provision of quality healthcare. Our innovative approach to quality has been locally and internationally recognized.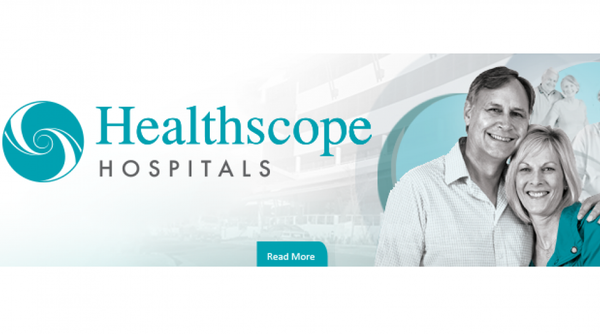 Healthscope's over 18,000 employees understand that healthcare is a special business. Our teams provide quality care and positively contribute to the clinical outcomes of our patients 24 hours a day, 365 days of the year.
List of hospitals:
Healthscope Group
| | | | | |
| --- | --- | --- | --- | --- |
| No | NAME | ADDRESS | LOCATION | WEBSITE |
| 1 | Gold Coast Private Hospital | 14 Hill Street (off Parklands Drive), Southport QLD 4215 | Australia | http://www.goldcoastprivatehospital.com.au/ |
| 2 | Ashford Hospital | 55 Anzac Highway, Ashford SA 5035 | Australia | www.ashfordhospital.org.au |
| 3 | Bellbird Private Hospital | 198 Canterbury Road, Blackburn South VIC 3130 | Australia | www.bellbirdprivatehospital.com.au |
| 4 | Brisbane Private Hospital | 259 Wickham Terrace, Brisbane QLD 4000 | Australia | www.brisbaneprivatehospital.com.au |
| 5 | Hunter Valley Private Hospital | 20 Mawson Street Shortland NSW 2307 | Australia | http://www.hvph.com.au/ |
| 6 | Campbelltown Private Hospital | 42 Parkside Crescent, Campbelltown NSW 2560 | Australia | www.campbelltown.com.au |
| 7 | Como Private Hospital | 152 Como Parade West, Parkdale VIC 3194 | Australia | www.comoprivatehospital.com.au |
| 8 | Darwin Private Hospital | Rocklands Drive, Tiwi NT 0810 | Australia | www.darwinprivatehospital.com.au |
| 9 | Dorset Rehabilitation Centre | 146 Derby Street, Pascoe Vale VIC 3044 | Australia | www.dorsetrehabilitationcentre.com.au |
| 10 | Flinders Private Hospital | 1 Flinders Drive, Bedford Park SA 5042 | Australia | www.flindersprivatehospital.org.au |
| 11 | Griffith Rehabilitation Hospital | 13 Dunrobin Road, Hove SA 5048 | Australia | www.griffithrehabilitationhospital.com.au |
| 12 | Hobart Private Hospital | Argyle Street, Hobart TAS 7000 | Australia | www.hobartprivatehospital.com.au |
| 13 | John Fawkner Private Hospital | 275 Moreland Road, Coburg VIC 3058 | Australia | www.johnfawknerprivatehospital.com.au |
| 14 | Knox Private Hospital | 262 Mountain Highway, Wantirna VIC 3152 | Australia | www.knoxprivatehospital.com.au |
| 15 | Lady Davidson Private Hospital | Bobbin Head Road, North Turramurra NSW 2074 | Australia | www.ladydavidsonprivatehospital.com.au |
| 16 | Melbourne Private Hospital | Royal Parade, Parkville VIC 3052 | Australia | www.melbourneprivatehospital.com.au |
| 17 | Mosman Private Hospital | 1 Ellamatta Avenue, Mosman NSW 2088 | Australia | www.mosmanprivatehospital.com.au |
| 18 | Mount Hospital | 150 Mounts Bay Road, Perth WA 6000 | Australia | www.mounthospital.com.au |
| 19 | National Capital Hospital | Cnr Gilmore Crescent & Hospital Road, Garran ACT 2605 | Australia | www.nationalcapitalprivatehospital.com.au |
| 20 | Nepean Private Hospital | 1-9 Barber Avenue, Kingswood NSW 2747 | Australia | www.nepeanprivatehospital.com.au |
| 21 | Newcastle Private Hospital | 2 Look Out Road, New Lambton Heights NSW 2305 | Australia | www.newcastleprivatehospital.com.au |
| 22 | North Eastern Rehabilitation Centre | 134 -144 Ford Street, Ivanhoe VIC 3079 | Australia | www.northeasternrehabilitationcentre.com.au |
| 23 | Northpark Private Hospital | Cnr Plenty & Greenhills Roads, Bundoora VIC 3083 | Australia | www.northparkprivatehospital.com.au |
| 24 | Norwest Private Hospital | Norbrik Avenue, Norwest Business Park, Baulkham Hills NSW 2153 | Australia | www.norwestprivatehospital.com.au |
| 25 | Pacific Private Hospital | 123 Nerang Street, Southport QLD 4215 | Australia | www.pacificprivatehospital.com.au |
| 26 | Parkwynd Private Hospital | 137 East Terrace, Adelaide SA 5000 | Australia | www.parkwyndprivatehospital.com.au |
| 27 | Peninsula Private Hospital | Cnr George Street & Florence Street, Kippa-Ring QLD 4021 | Australia | www.peninsulaprivatehospital.com.au |
| 28 | Pine Rivers Private Hospital | Dixon Street, Strathpine QLD 4500 | Australia | www.pineriversprivatehospital.com.au |
| 29 | Prince of Wales Private Hospital | Barker Street, Randwick NSW 2031 | Australia | www.princeofwalesprivatehospital.com.au |
| 30 | Ringwood Private Hospital | 36 Mt Dandenong Road, Ringwood VIC 3135 | Australia | www.ringwoodprivatehospital.com.au |
| 31 | Northern Beaches Hospital | 105 Frenchs Forest Road (West), Frenchs Forest NSW 2086 | Australia | http://northernbeacheshospital.com.au/ |
| 32 | St Helen's Private Hospital | 186 Macquarie Street, Hobart TAS 7000 | Australia | www.sthelensprivatehospital.com.au |
| 33 | Sunnybank Private Hospital | 245 McCullough Street, Sunnybank QLD 4109 | Australia | www.sunnybankprivatehospital.com.au |
| 34 | Sydney Southwest Private Hospital | 40 Bigge Street, Liverpool NSW 2170 | Australia | www.sydneysouthwestprivatehospital.com.au |
| 35 | The Geelong Clinic | 98 Townsend Road, St Albans Park VIC 3219 | Australia | www.thegeelongclinic.com.au |
| 36 | The Hills Private Hospital | 499 Windsor Road, Baulkham Hills NSW 2153 | Australia | www.thehillsprivatehospital.com.au |
| 37 | The Melbourne Clinic | 130 Church Street, Richmond VIC 3121 | Australia | www.themelbourneclinic.com.au |
| 38 | The Memorial Hospital | Sir Edwin Smith Avenue, North Adelaide SA 5006 | Australia | www.thememorialhospital.org.au |
| 39 | The Sydney Clinic | 22 - 24 Murray Street, Bronte NSW 2024 | Australia | www.thesydneyclinic.com.au |
| 40 | The Victoria Clinic | 324 Malvern Road, Prahran VIC 3181 | Australia | www.thevictoriaclinic.com.au |
| 41 | The Victorian Rehabilitation Centre | 499 Springvale Road, Glen Waverley VIC 3150 | Australia | www.thevictorianrehabilitationcentre.com.au |
| 42 | Tweed Day Surgery | 38 - 44 Boyd Street, Tweed Heads NSW 2485 | Australia | www.tweeddaysurgery.com.au |
| 43 | Frankston Private Hospital | Ground Floor, South Building, 5 Susono Way, Frankston VIC 3199 | Australia | http://frankstonprivate.com.au/ |
| 44 | Holmesglen Private Hospital | 490 South Road, Moorabbin VIC 3189 | Australia | http://www.holmesglenprivatehospital.com.au/ |
| 45 | La Trobe Private Hospital | Corner Kingsbury Drive & Plenty Road Bundoora VIC 3083 | Australia | http://www.latrobeprivatehospital.com.au/ |
| | | | | |